A rentable overnight-stay container as accommodation instead of a tent: Dive into the dream world of circus and music at the Psychedelic Circus Festival and grab the chance to dream away in one of our Molos. My Molo allows you to get your own 4 walls right where the festival is taking space, including the whole camping experience – just a way more comfy.
Everybody who's attending the Psychedelic Circus Festival will leave the real world behind. The organizers beam the festival's visitors into the world of circus and music. Colourful and lovely decorated stages, fire shows, crazy costumes and a unique line-up are inviting the guests to forget about their daily life issues and to simply go with the flow. A wide mix of Psytrance up to Acid House, Acid Techno and Psypop will make ten thousands of visitors dance from the 31st May until the 04th June. The festival takes place in Göhlen, near Ludwigslust (GER) – a temporary adventure playground and parallel universe for grown-ups.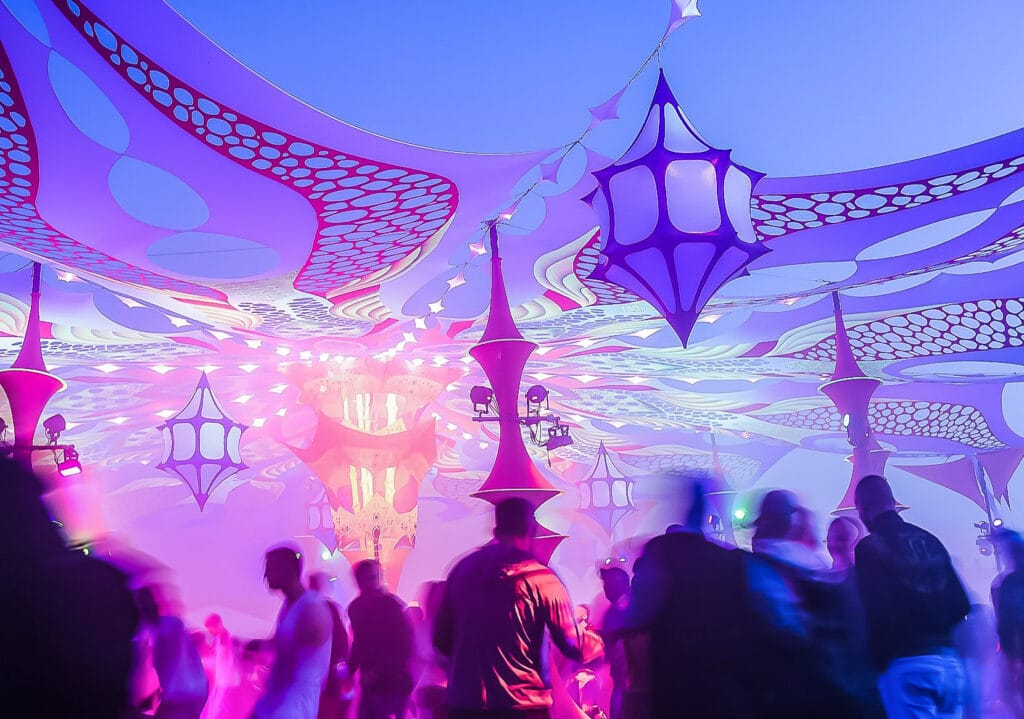 Overnight-stay container and tipis
No one attending the Psychedelic Circus Festival has to spend the night on the backseat of their car or in tiny stinky tents. For the first time, this year's visitors can choose to rent one of our Molos, instead of a tent. The lodges will provide you with everything needed at a festival: power, a fridge, a comfy bed for two as well as a nice chill out area with hammocks, deck chairs and awnings.
Did you know, that....
... you can go on a sightseeing flight at the festival, overlooking the whole area?
Impressions Psychedelic Festival 2017
In 2017, the Psychedelic Circus Festival was just crazy. Everyone, who's missed it – check out the Psychedelic Circus after movie 2017!

Dates Psychedelic Circus 2018
The Psychadelic Circus Festival takes place from the 31st May until the 4th June 2018.
Psychedelic Circus Camping & Opening Hours
Spend 5 lovely days in nature and unwind from your daily routine while camping at the festival. The gates to the camping ground will open on Thursday noon and close again on the following Tuesday afternoon. Our overnight-stay containers can be booked from Thursday till Monday. Please bring your BBQ with you, but avoid open fires, as they are prohibited. Safety first!
The camping ground is open from the 31st May until the 4th June. Our Lodges will be ready for you on the 31st May from 2 pm on.
Arrival at the Psychedelic Circus
Take highway A24 till interchange "Schwerin" and keep on going on highway A14 in direction Ludwigslust. Leave the highway at exit " Groß Laasch/Ludwigslust" and take the country road L73 towards Ludwigslust. Switch onto state road B5 towards Boizenburg in Ludwigslust and keep on going until you reach Göhlen. Pass the town and take the road in direction of Leussow (sings will guide you the way to the festival area). After 1.5 km, turn right on a little road into the wood, in order to reach the festival ground.
Your overnight-stay container at the Psychedelic Circus Festival 2018
Our foldable live-in containers also come with a chill out area with deck chairs, hammocks and awnings. Grab an ice cold beer out of the fridge and chillax with other festival addicts during the pre- and after party hours.
CHECK-IN: 31st May 2018 at 2 pm
CHECK-OUT: 4th June 2018 at 12 pm
Book our Lodges from 349.00 EUR for the whole festival weekend. Additionally, use the provided hammocks, deck chairs, eco toilets, only available for Lodge guests. If you have any further questions regarding our Overnight-stay container, do not hesitate to contact us via e.g. Facebook!
Line Up Psychedelic Circus 2018
A wide mix of Psytrance up to Acid House, Acid Techno and Psypop will make your ears shiver. This year's headliners are Fabio & Moon and Neelix. Further acts of the line-up-phase 1 will be: Avalon, Berg, G.M.S, Killerwatts, Pixel, Space Cat, Tristan and many, many more. The complete line-up of the Psychadelic Circus Festival can be found under: http://www.psychedelic-circus.com/#three
Ticket prices Psychedelic Circus Festival 2018
Weekend tickets for the Psychadelic Circus Festival 2018 are available from 85.00 EUR on. An additional ticket for the camping ground is not needed.