Big wheels keep on turning: The Open Beatz Festival is inviting all friends of electro music to dance and celebrate from the 19th July 2018 until the 22nd July 2018. A massive line up on four stages will entertain the crowd, let hips move to the rhythm and fill the air with sweet beats.

Spit by spit – big wheels and the temptation to hit it
If the air becomes too dusty or you're unable to find your friends between all these party people – why not reaching for a higher level, escaping the foggy ground by jumping on a big wheel!? Everybody who'd like to prove to his friends that he or she has an imperturbable stomach that nothing can through off the track, is now welcome to show guts and experience what it feels like to bungee jump.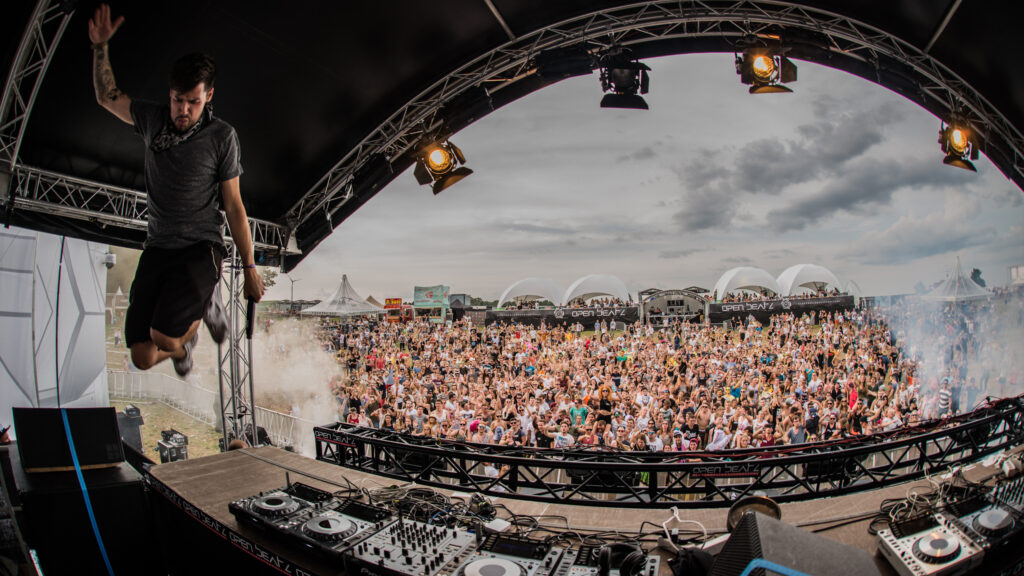 Open Beatz Festival Camping
Everybody who is not this keen to fill the festival weekend with adrenaline and action is welcome to find a comfy spot in one of our cosy festival lodges. Each lodge can be locked, is designed with enough room to easily fit two people, a bed with mattress, power, your own fridge, a fan to cool down hot nights, an exclusive access to eco-friendly toilets and a chill-out area with deckchairs for a pre and after hour get together.
The link to your personal camping joy:
Did you know, that...
...Last year around 30.000 festival visitors have turned the tranquil Franken into an electro-oasis?
Impressions Open Beatz Festival 2017
In 2016 the Open Beatz Festival was kicking it off right! Except from a few short rain showers, the weather has just been perfect. The After Hour on the camping ground lasted until sunrise. Everybody who has missed the party is now able to enjoy the Picture-Gallery on Facebook from the Open Beatz.
Dates Open Beatz Festival 2018
The festival takes place from the 19th July 2018 to 22nd July 2018.
Festival Ground Open Beatz
The area around the lovely Poppenhofer Weiher near Herzogenaurach in Bavaria is turning into an oasis of electro music every year. About 30.000 party people transform an idyllic piece of earth into a party zone.
Address Open Beatz Festival
Puschendorferstraße 2
91074 Herzogenaurach
Arriving by car
In order to get there you have to pass the village "Höfen". There will be sings on every access road to guide you to the festival location. If a street is closed, please follow the detour sings. They will show you the way to the regular festival access road.
Public Transport
If you plan on arriving by train, get off at the station Puschendorf. A shuttle bus service is provided. The two busses make sure that you'll reach the festival ground or get back to the station.
If you choose to take one of the public busses, make sure that your final destination is going to be the train station Puschendorf.
Parking Open Beatz Festival
You'll need a parking ticket for the Open Beatz Festival: One-day-visitors will be charged with 5 Euros. It cost you 10 Euros for the whole weekend. Visitors, who plan on parking their car next to the tent, require a special car tag/sticker for it. If you have one, you don't need to pay the extra parking fee. Our lodges are located near to the parking space. Unfortunately, it is not possible to park your car next to the lodges.
Open Beatz Festival Camping & Opening Hours
The camping area is divided into two parts at the Open Beatz Festival  (South and North). It will open its doors for the crowd on Thursday, the 20th July 2017 at 10 am. Our lodges will be ready for you around 2 pm the same day and can be found on the camping ground "South", directly next to the entry for the area called "Parzelle 1" (lot 1).
Besides the eco friendly toilets, which our guests will get an exclusive access to, you can also use the general sanitary facilities located on the camping ground "North". A flat rate for these facilities is available for 12 Euros. A single shower will be charged with 4 Euros.

Line Up Open Beatz Festival
Friends and lovers of electronic dance music get their money's worth with a great Open Beatz Festival line up: Famous DJs such as Alison Wonderland, Cuebrick and Gestört aber Geil are only a few performing acts along with some insider tips. For further information, please check out the Line-up Open Beatz Festival.
Ticket prices Open Beatz Festival 2018
Weekend tickets are available from 109 Euros and can be bought in the official Ticket shop.