Sleep like a baby on cloud no. 7! At a festival? Wait! This seems to be impossible. Well, let us tell you – it isn't! Turn a party night into a night in heaven. Sleep like a baby and get a fresh start into the next festival day. In order to make this happen, we have decided on taking a new partner into our lodges with us. Two truckloads of the incredible comfy eve mattresses have just arrived at our site.
From now on, all our Molos will be equipped with these luxurious mattresses from the company eve Sleep (you may already have seen their ads on TV). According to them, these mattresses are "the most comfortable in the whole wide world".

The mattress is made of premium rayon memory foam and adapts perfectly to every body type. It ensures a perfect sleep experience, even if the surrounding is trying to keep you up. So better set an alert, otherwise you risk missing your favourite band!
Perfect Start
Thanks to the breathable mattress, you are staying cool even in the hottest summer night – only the dance floor can make you sweat. No more sleeping in the car, on an uncomfortable air mattress or hard camping mat this festival summer.

We say: Getting a good sleep doubles your festival joy and makes you fit for the day. Our guests are able to try these premium mattresses and if you like them – get your personal voucher "Festival110" with an exclusive discount of 110,00 Euro and bring the ultimate sleeping experience into your own home.
About eve Sleep
Eve Sleep is a pioneer in the field of luxurious sleeping-solutions. They guarantee you a perfect start into the day after a good nights sleep. Founded in Great Britain, they already have become well established within the USA, Germany, Austria and France by now. Buying a good mattress for your home is a lot of work and researches. eve Sleep offers the whole package in one product. They support and advise you and help you finding the perfect article for your home. It's revolutionary. The company offers a great Customer-first-Service and only top-quality products. Their materials are based on a Three-Layer-Technology, which combines a supporting base with a 7-zone-memory-foam. The upper layer consists of the latest memory-foam generation.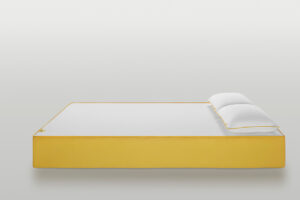 A new designed comfort that's achievable. The price will leave you stunned. Eve mattress is available for every bed size and form. After you have placed your order, the delivery takes three to four workdays and is free of charge. You can try it for 100 nights and if you decide on keeping it, which we can assure (cuz it's so comfy), the company provides you with a 10-year-warranty. eve Sleep also offers pillows, bed sheets or blankets. Find your perfect sleep under: www.evemattress.de