Double Trouble: Terence Hill and Bud Spencer are not only two film legends with witty talk and tough fists, they are also eponymous for the Spencer Hill Festival. This fan gathering takes place on the premises of a go-kart track in Drebkau. This year's edition is dedicated to the film"Watch Out, We're Mad!" and you can be sure to find the most important elements of the flick in the festival programmem, some requisits and decorations.

A fun fair in 70's design, extravagant stunt shows and live music make this festival very special. Of course, there are screenings of the movies starring these two swashbucklers. In 2017, the fan festival attracted 1.100 visitors and for 2018, again more than 1.000 visitors can be expected.
The fans are just as special as the festival programme: "Most of the visitors have become family. Once a year we all get together and spend fun times with the people, who became our friends in the years before. Everybody loves the movies and knows most quotes by heart", says festival organiser Michael Maaß.
Orange Squeeze Showdown
Visitors can enjoy themselves just like their idols, while riding the electric bull and playing high striker. Make sure to get some Bud Spencer's legendary bean stew as well! Everyone is welcome to join some of the contests as seen in the movies, for example: tug of war, arm wrestling, the beer/sausage-contest and orange squeezing. Supporting actors and stunt-men from the original cast will be at the festival and happy to sign any fan merchandise or pose for photos.
Spencer Hill Festival camping
Since action heroes rarely sleep in tents, this year's visitors can spend the night in one of our comfortable lodges, when they are strung out from all the action. Our Molos will be placed within the Western town on the festival site, so after wrecking the bar, movie fans can drop into bed right away. In addition, there are big communal tents and a camp site , where visitors can set up their own tent.
Did you know that...
...Bud Spencer invented a walking cane, that features a fold-out chair and that he applied for 11 more patents regarding other inventions of his?
Impressions Spencerhill Festival 2017

Dates Spencer Hill Festival 2018
The festival takes place from 31st August 2018 until 2nd September 2018.
Directions Spencer Hill Festival
Address:
Spencerhill Buggy Center
Löschener Dorfstraße 33
03116 Drebkau
Site map Spencer Hill Festival

Our Molos are located on-site and close to alle the action (see on the bottom left). It is possible to purchase a nice breakfast in the camp and there will be a 24hrs-shop as well in case you might need anything.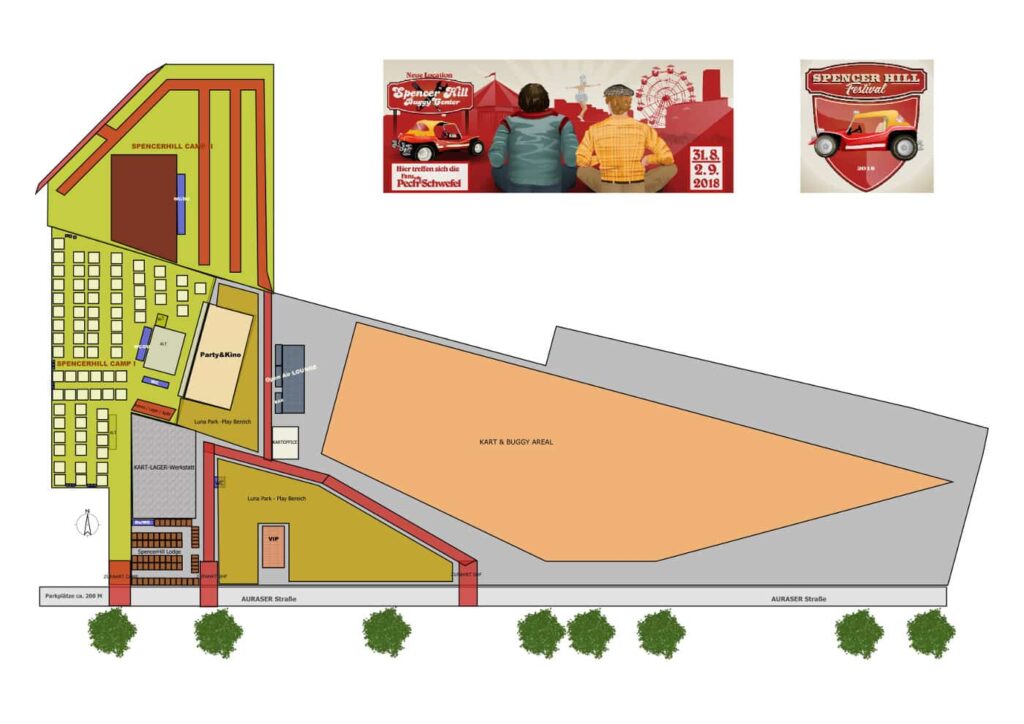 Line-up Spencer Hill 2018
Get ready for some movie tunes: the Dune Buggy Band, the Hill Magic Band and El Caballo, to only name a few, will provide musical entertainment. The programme also features screenings, contests, stunt shows and signing sessions with the very popular doubles of the two movie stars. Line-up Spencer Hill Festivals
Ticket prices Spencer Hill Festival 2018
Tickets for all 3 days are now available starting at 65,00 EUR (camping not included). For more ticket options please have a look at the Ticketshop. Our Molos are available for 370,00 EUR.